I often drive by a field that was once a Civil War battleground. The other day, that field, which now has a new crop most every season, reminded me of an important lesson if you're looking for a job.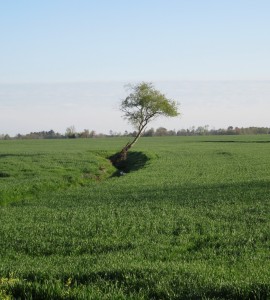 The field itself looks like most every other field, except it's got a tree growing right in the middle of it. You wouldn't think a tree could survive in the middle of a field that's replanted season after season, but there it sits.
But if you look close, you'll see how the tree made it. It's growing out of the side of a ditch that runs through the middle of the field. It started growing sideways, but then turned to the sky.
The farmer, of course, avoids the ditch on his tractor. So the tree avoided getting run over or plowed under in its early years.
I guess the farmer decided that the tree deserved to live, because there it is, right in the middle of the field.
I admire that tree. I think about its persistence every time I see it.
The other day, I thought about how many job-seekers could learn a lesson from that tree. Sometimes you need a resume writing system that can help you find an alternative path to your goal and stick with it until you reach it.
Sometimes looking for a job can leave you feeling like your about to get run over and plowed under. Keep trying until writing effective resumes becomes second nature. Reach for the sky.